Practice Education in our TP
Developing highly skilled Practice Educators
Our Partnership is committed to developing a learning culture and community where social work students are supported to develop their capabilities and confidence to practice. Therefore we are supporting qualified social workers to develop their practice education skills to ensure students have a high quality learning experience in practice.
We are committed to ensuring that staff involved in practice education are well supported and valued and recognise the demands of undertaking these roles alongside your day job.
Information and Opportunities
We take a partnership approach towards Practice Education training and supporting organisations and teams to develop the skills and knowledge to effectively supervise and teach students.
There are a number of roles involved in supporting student placements and developing Practice Educators:
Practice Educators
Practice Supervisors
Tutors
Practice Assessors
Partnership Practice Consultants
Read our guide to learn more about the different roles and the training and support available to placement providers:
University accredited Practice Educator qualification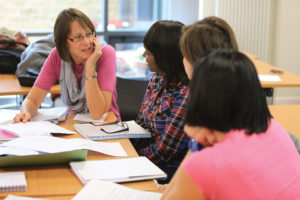 Kingston University offers a Stage 1 (PE1) and Stage 2 (PE2) Practice Educator course at Level 7. This is delivered at various points throughout the year. It will equip you with the knowledge, skills and values necessary to best support undergraduate and postgraduate social work students.
For more information on the course and the application process, please see:
Further Information and Support
We are continually developing our ongoing programme of support for staff across the partnership who undertake a Practice Education Role. Leading the way are our Practice Consultants who are key to implementing our vision.
In addition please check our Events page for details of upcoming seminars and conferences.
Find out more about all continuous professional development opportunities available to our Social Workers here.